/
Episode 18 – President Jimmy Carter's lifetime of service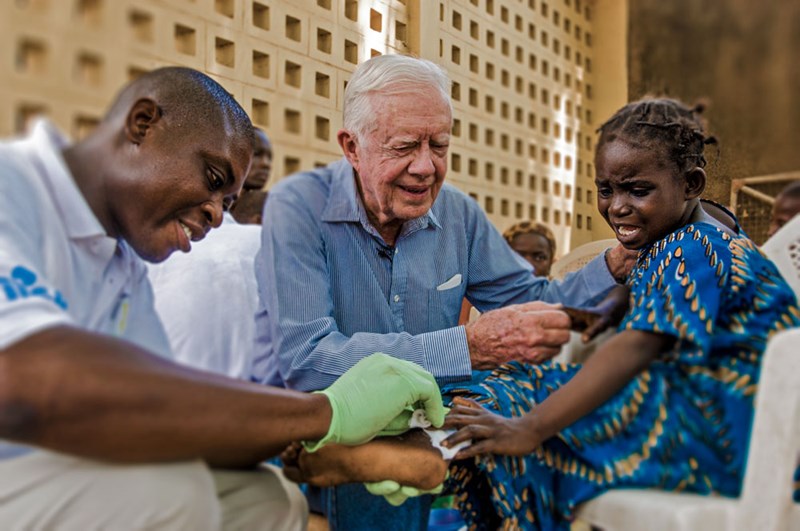 This is a special episode dedicated to President Carter and the extraordinary impact he has had around the world in the decades since leaving the White House.

Overview
In 2002, President Jimmy Carter was awarded the Nobel Peace Prize for his work in international conflict resolution, human rights, and economic and social development.
With President Carter, 98, now receiving hospice care, this episode of The Impact Room looks back on his decades of service and the deep impact he has had around the world.
Born in 1924 in Plains Georgia, James Earl Carter Jr. served in the US Navy before his opposition to racial segregation took him into politics. He was governor of Georgia from 1971 to 1975 and in 1976 became the 39th president of the United States.
One of the last remaining members of his generation of leaders, President Carter displayed a unique ability to relate to ordinary people – something credited to his own humble upbringing as the son of a peanut farmer. Yet, he was also able toleverage his high-level connections to work on issues neglected by the majority and bring them into the mainstream.
In 1982, he and his wife Rosalyn set up The Carter Center, a nonprofit to focus on conflict resolution, democracy, and health. Programmes range from election monitoring in Latin America and conflict resolution work in the Middle East, to advocacy and education on mental health, and initiatives tackling neglected tropical diseases – or NTDs – like blinding Trachoma and Guinea worm.
President Carter and his wife Rosalyn have also been long-time supporters of housing charity, Habitat for Humanity. And, until very recently, despite both being quite frail, spent several days a year volunteering and over the years personally helped to build and renovate thousands of homes.
In this episode, we hear from people he worked with, as well as those whose lives he has touched, his grandson Jason Carter, who is now board chair of The Carter Center, and Curtis Kohlhaas, the organisation's director of international philanthropy.
One of President Carter's least well-known areas of work, yet possibly one of his most impactful, relates to Guinea worm, a waterborne parasite, which causes untold suffering its hosts.
Referring to his grandfather's "deep personal commitment to ending Guinea worm", Jason Carter says: "My grandfather believes people should not be sick because they're poor. People have rights and people have dignity… He believes that being free from preventable disease as one of those fundamental rights."
In the 1980s, when the Carter Center began its programme to tackle this parasitic disease, there were believed to be more than 3.5million cases worldwide. As of last year, the global caseload stood at just 13 – in five countries (Angola, Chad, Ethiopia, Mali and South Sudan) – which is equivalent to a 99.99 percent decrease and Guinea worm is now on course to become only the second human disease – after smallpox – to be eradicated.
In a wide-ranging interview recounting three decades of working for President Carter, Kohlhaas tells host Maysa Jalbout: "It would have been a wonderful capstone to his life, to have removed the last Guinea worm before he passed. That looks unlikely now, but we are doubly committed to seeing that happen in the very near future."
Kolhass describes President Carter's legacy as "one of continuous service" which, he says, has "redefined the post-presidency" and "redefined service and ageing".
"President Carter has just given such a powerful example of how to live your life. To live your life with integrity, to live your life with with service and accountability, and to make every day count," he adds. "By living his life the way he did, that's just been a guidepost to so many of us on how we can live our lives to the fullest."
The Just 13 poem about Guinea worm that features in the podcast was written and performed by Waleed Gubara. You can watch a video version by clicking here. For more about the Carter Center's work on Guinea worm visit their website.

You could listen to all the episodes of The Impact Room here.

About the host
Maysa Jalbout is a leader in international development and philanthropy. Her previous roles include founding CEO of the Abdulla Al Ghurair Foundation for Education, a $1bn philanthropic initiative based in Dubai, and founding CEO of the Queen Rania Foundation. Maysa is a visiting scholar at MIT and ASU, and a non-resident Fellow at the Brookings Institution. Find her on Twitter, @MaysaJalbout.